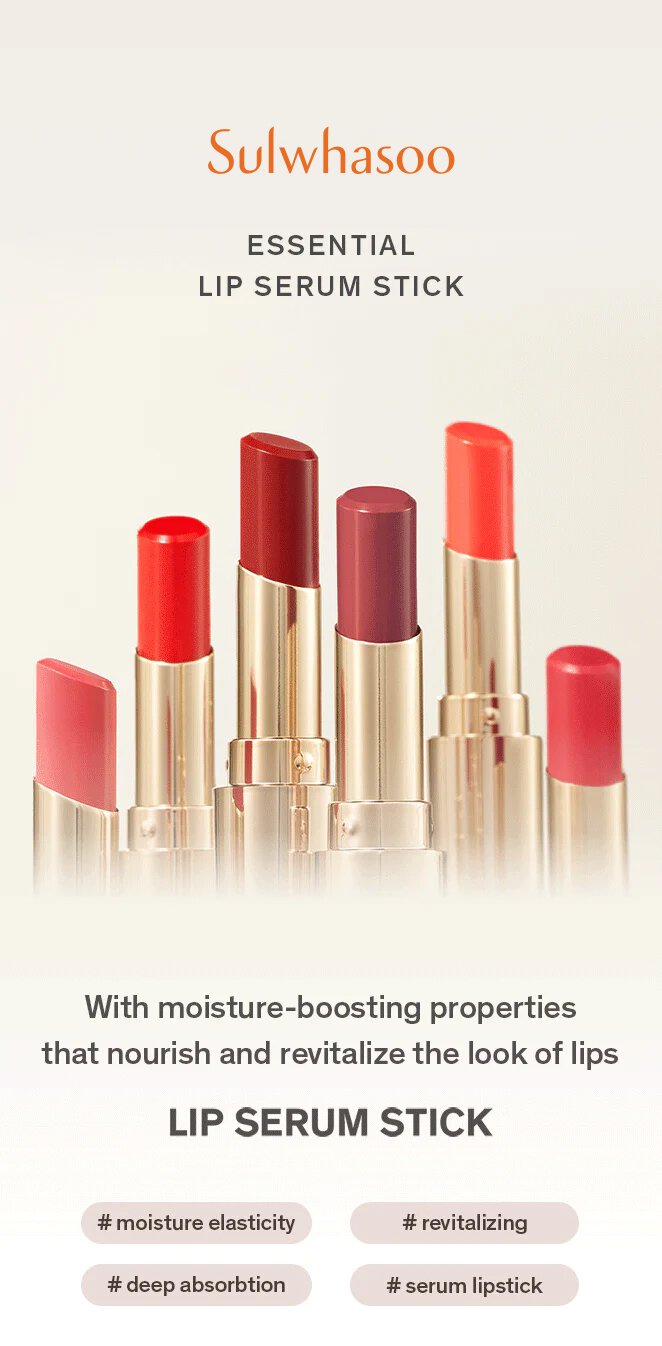 Sulwhasoo Essential Lip Serum Stick
With moisture-boosting properties that nourish and revitalize the look of lips LIP SERUM STICK
# moisture elasticity # revitalizing # deep absorbtion # serum lipstick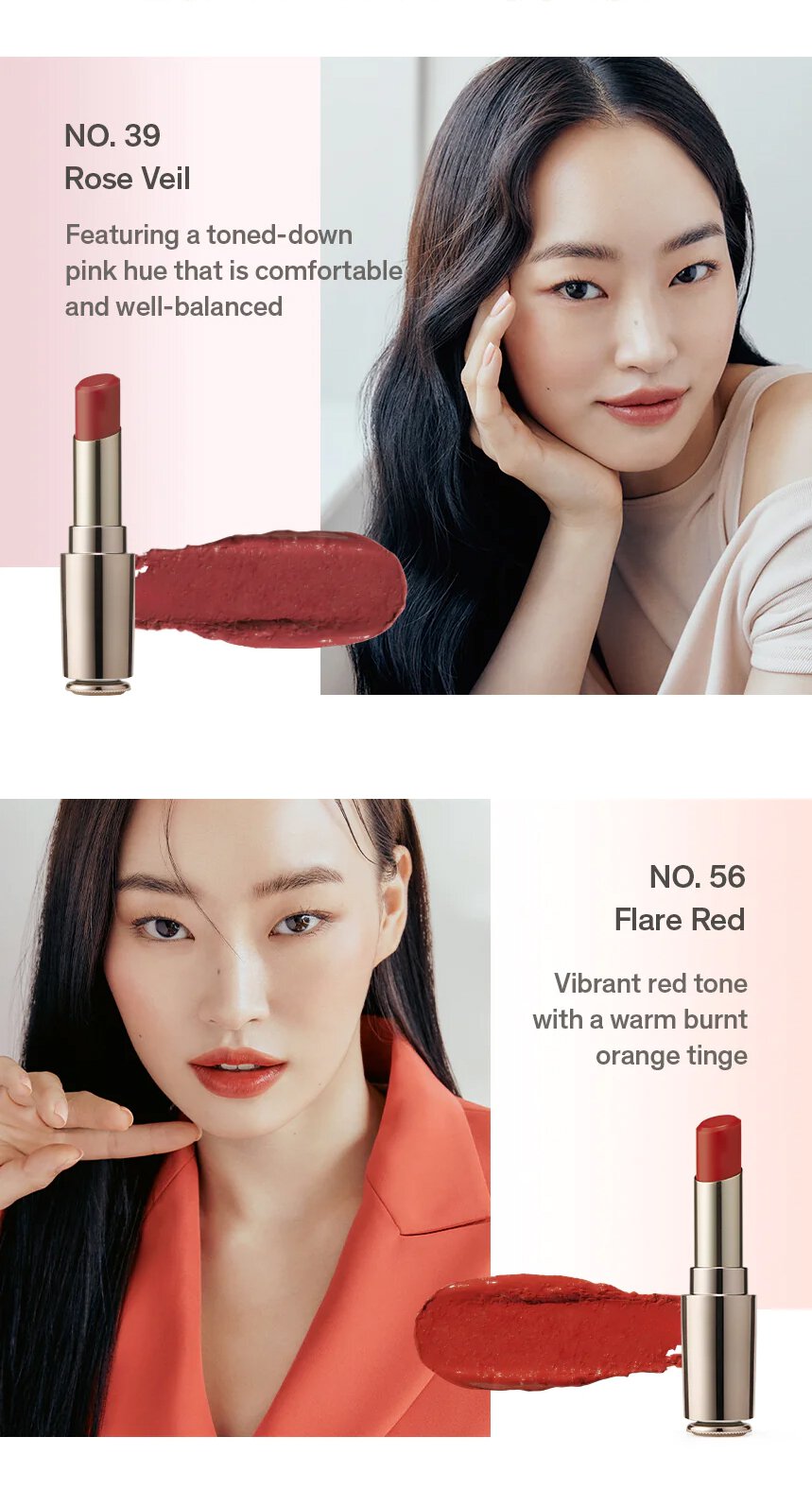 NO.39 Rose Veil/Featuring a toned-down pink hue that is comfortable and well-balanced
NO.56 Flare Red/Vibrant red tone with a warm burnt orange tinge
3 CHECK POINT Feel the softness and suppleness from the moment it is applied Seal shiny lips with a natural luster and clean, glossy look
POINT 01 Moisturizing / Double oil and moisture-locking formula that envelops the lips. It hydrates and protects to keep lips soft, supple, and comfortable.
POINT 02 Vitalizing / The texture of the serum base creates a clean look and subdued yet radiant luster.
POINT 03 Elastic care / The apricot kernel oil and elastic complex penetrate deep for smooth and elastic lips.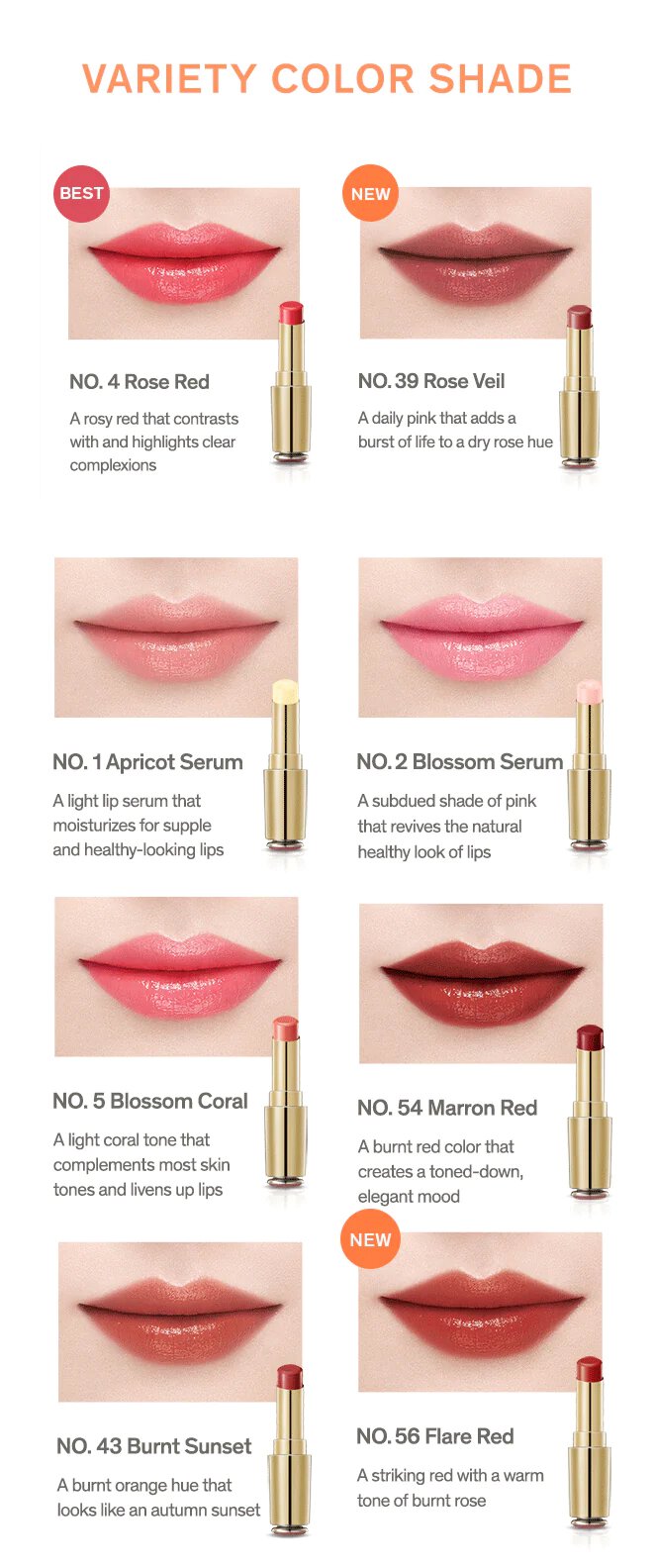 VARIETY COLOR SHADE
BEST NO.4 Rose Red:A rosy red that contrasts with and highlights clear complexions/ NEW NO.39 Rose Veil:A daily pink that adds a burst of life to a dry rose hue/ NO.1 Apricot Serum: A light lip serum that moisturizes for supple and healthy-looking lips/ NO.2 Blossom Serum:A subdued shade of pink that revives the natural healthy look of lips/ NO.5 Blossom Coral: A light coral tone that complements most skin tones and livens up lips/ NO.54 Marron Red: A burnt red color that creates a toned-down, elegant mood/ NO.43 Burnt Sunset:A burnt orange hue that looks lik an autumn sunset/ NEW NO.56 Flare Red: A striking red with a warm tone of burnt rose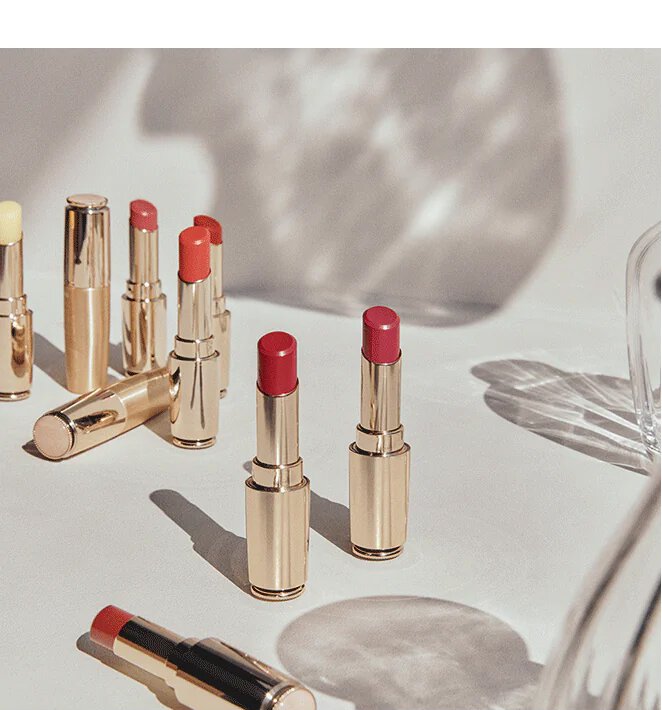 COLOR RECOMMENDATIONS BY STYLE
01 NATURAL MAKE UP: Rose veil naturally adds vitality and a sbdued, luxurious look./Makeup that naturally adds vitality
02 POINT MAKE UP: Flare red is a fresh color that is bold but never overpowring for a warm mood./Makeup that is bold but still fresh and stylish