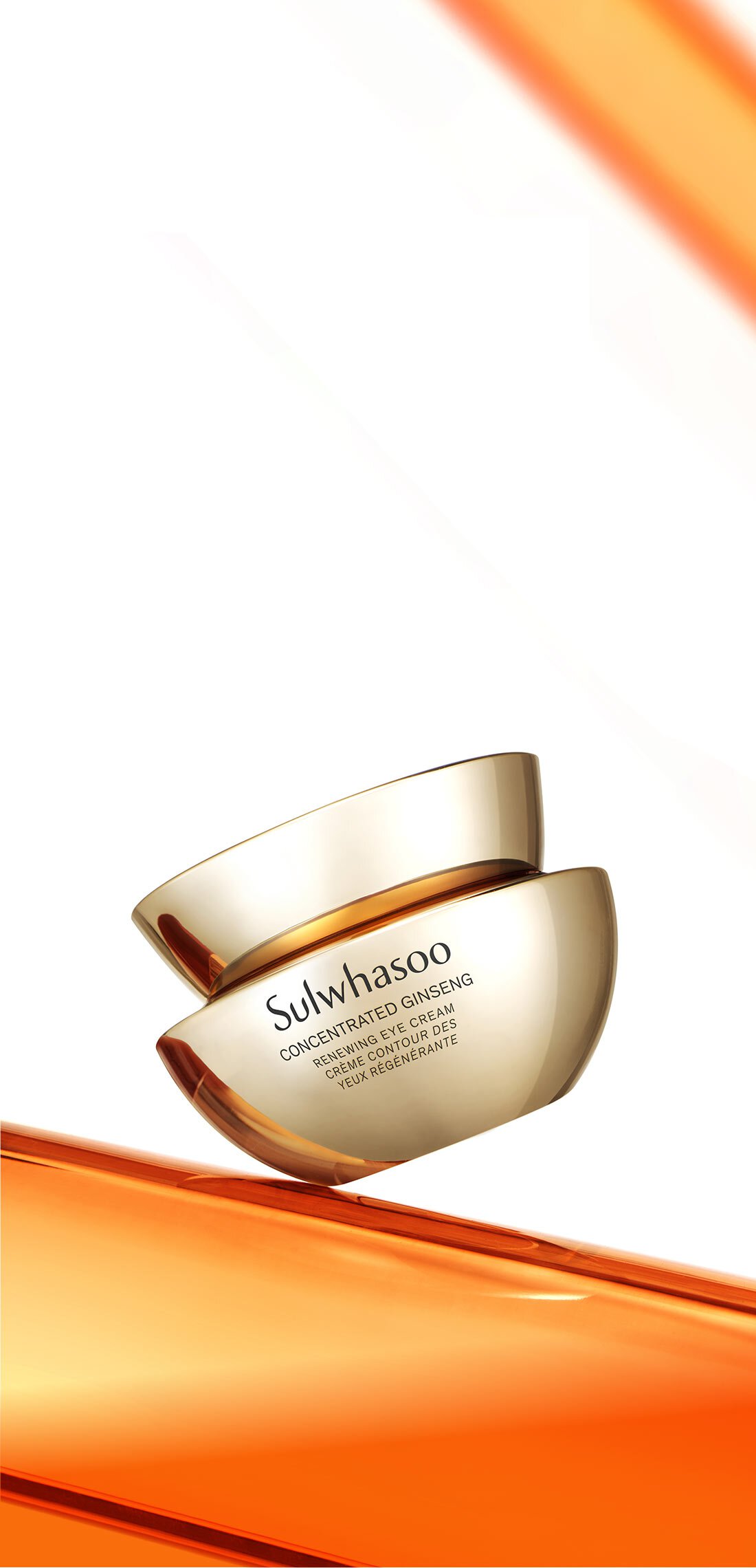 TAKING CARE OF THE
ELASTICITY AROUND THE EYES
IN ONE SHOT WITH A
SUPERCHARGED COMPLEX
OF GINSENG RETINOL™
CONCENTRATED GINSENG RENEWING
EYE CREAM
The anti-aging eye cream reduces the appearance
and prevents formation of fine lines and wrinkles,
strengthens skin barrier and protects skin from
external stressors for a tighter, firmer,
youthful and radiant eyes.
AN EFFECTIVE
ANTI-AGING SOLUTION
FOR VISIBLE CONCERNS
AROUND THE EYES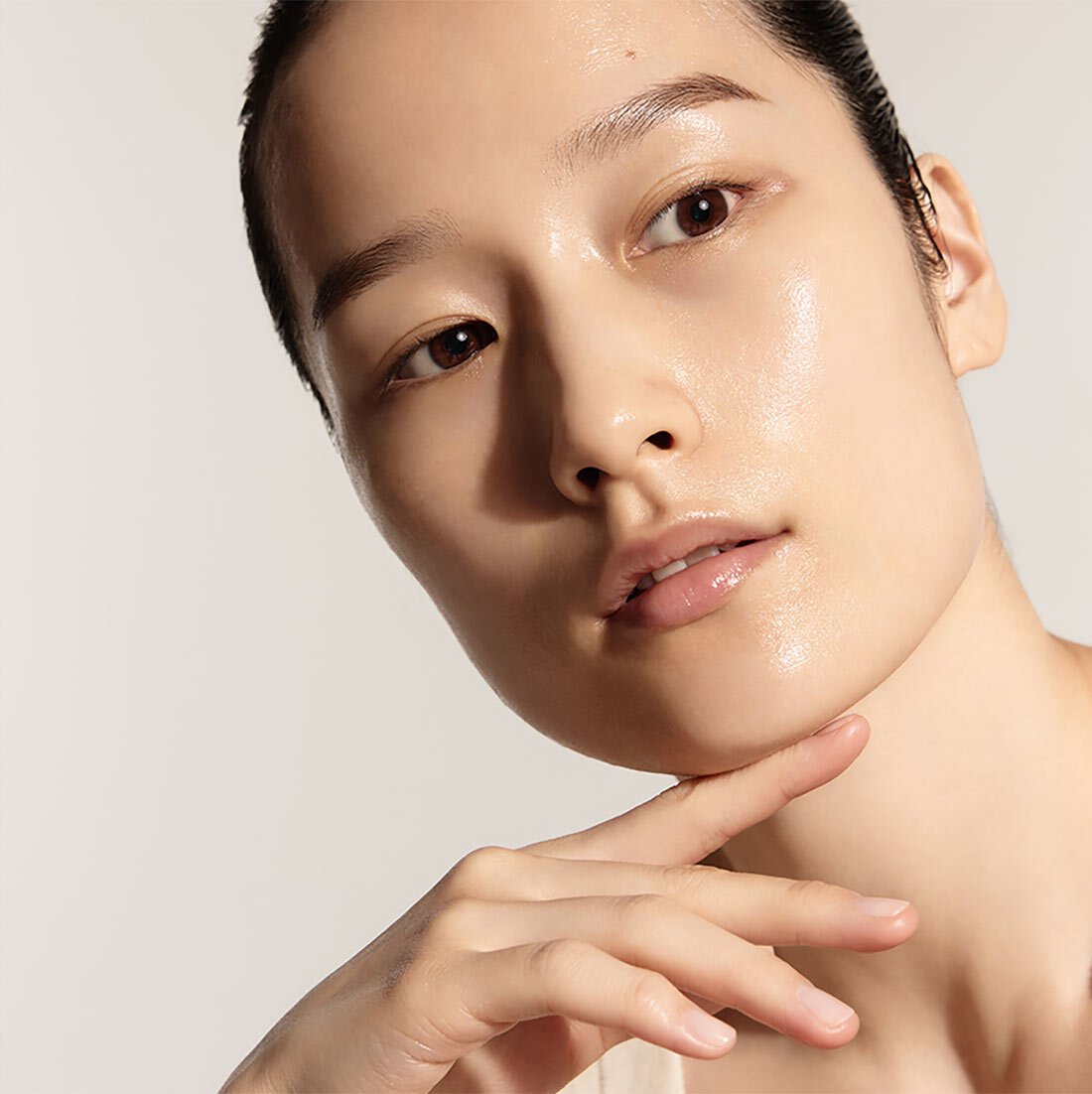 INTENSIVE WRINKLE* CARE
AROUND THE EYES BY
TIGHTENING FROM DEEP WITHIN
Even a single use** of Concentrated Ginseng
Renewing Eye Cream can produce visible
improvements in visibly tightening and
lifting the skin around the eyes.
By addressing eye wrinkles at five levels,
your eye care concerns will be blown away.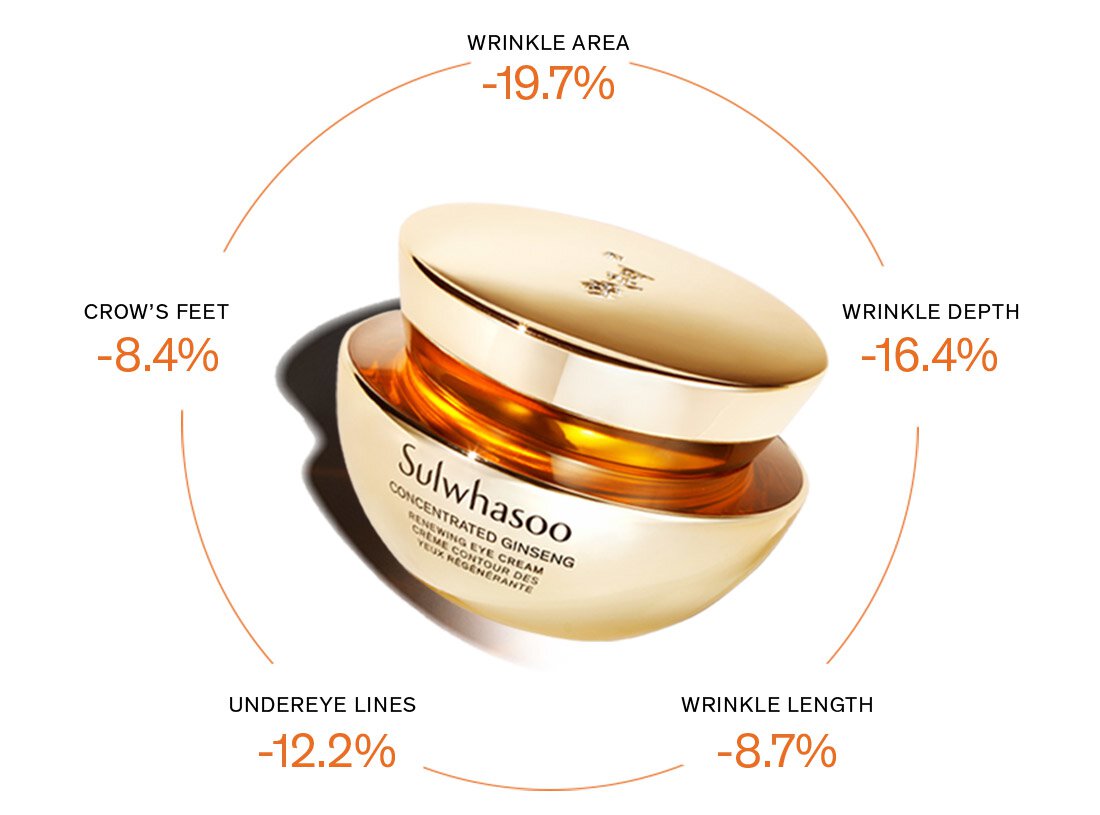 WRINKLE AREA : -19.7%
CROW'S FEET : -8.4%
UNDEREYE : -12.2%
WRINKLE LENGTH : -8.7%
WRINKLE DEPTH : -16.4%
* From a clinical study of 32 Korean women (ages 30 to 69) after 4 weeks of use,
conducted from Aug. 17 to Oct. 13, 2021, by P&K Skin Research Center, Korea
** Skin firmness +7.2% (temporary improvement right after use)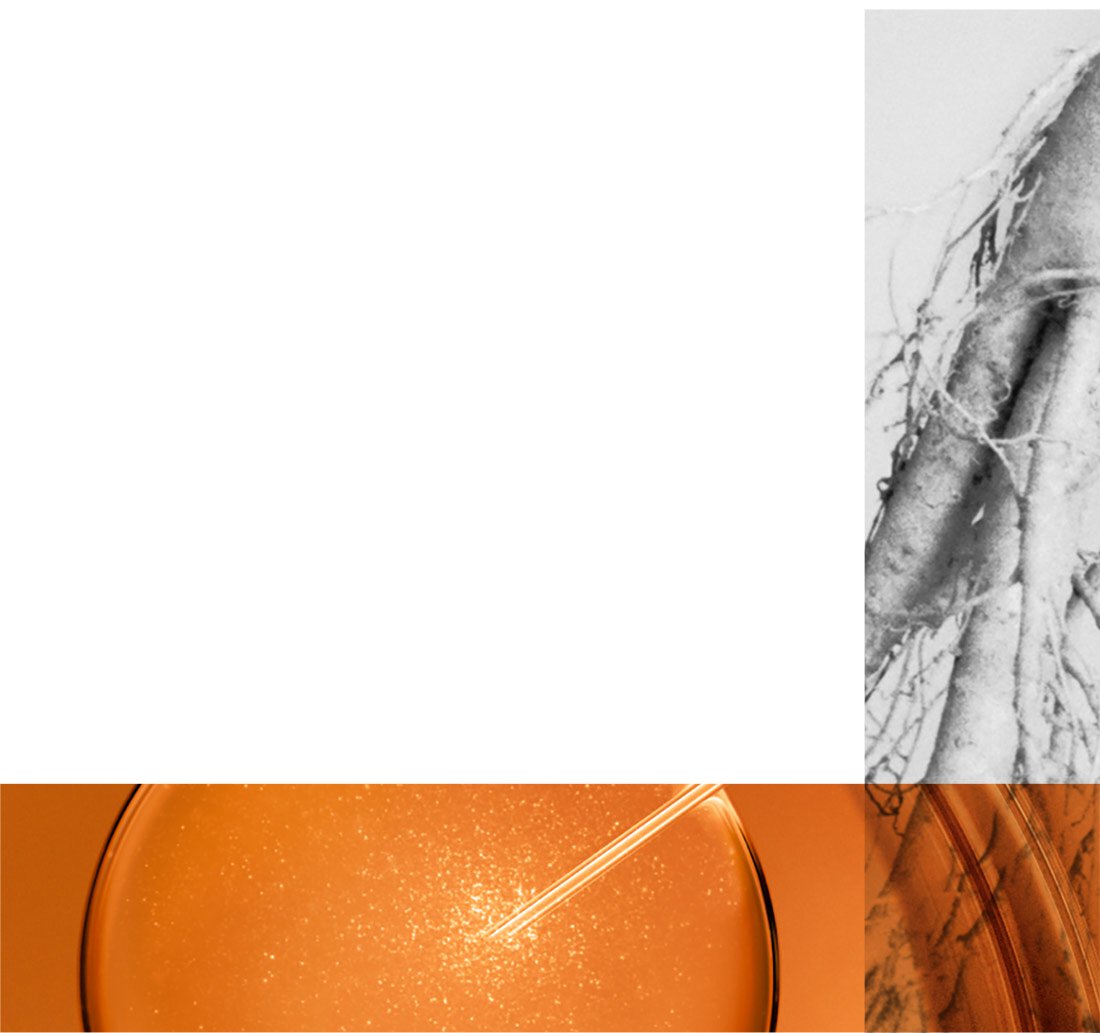 GINSENG TECHNOLOGY
JUST LIKE AN ART PIECE
GINSENG, THE ESSENCE
CHARGED WITH THE ENERGY
OF MOTHER EARTH
Sulwhasoo decoded the ginseng
to unveil its exceptional power
for skin for over many decades.
Concentrated Ginseng Renewing
Eye Cream has applied proprietary
ginseng technology*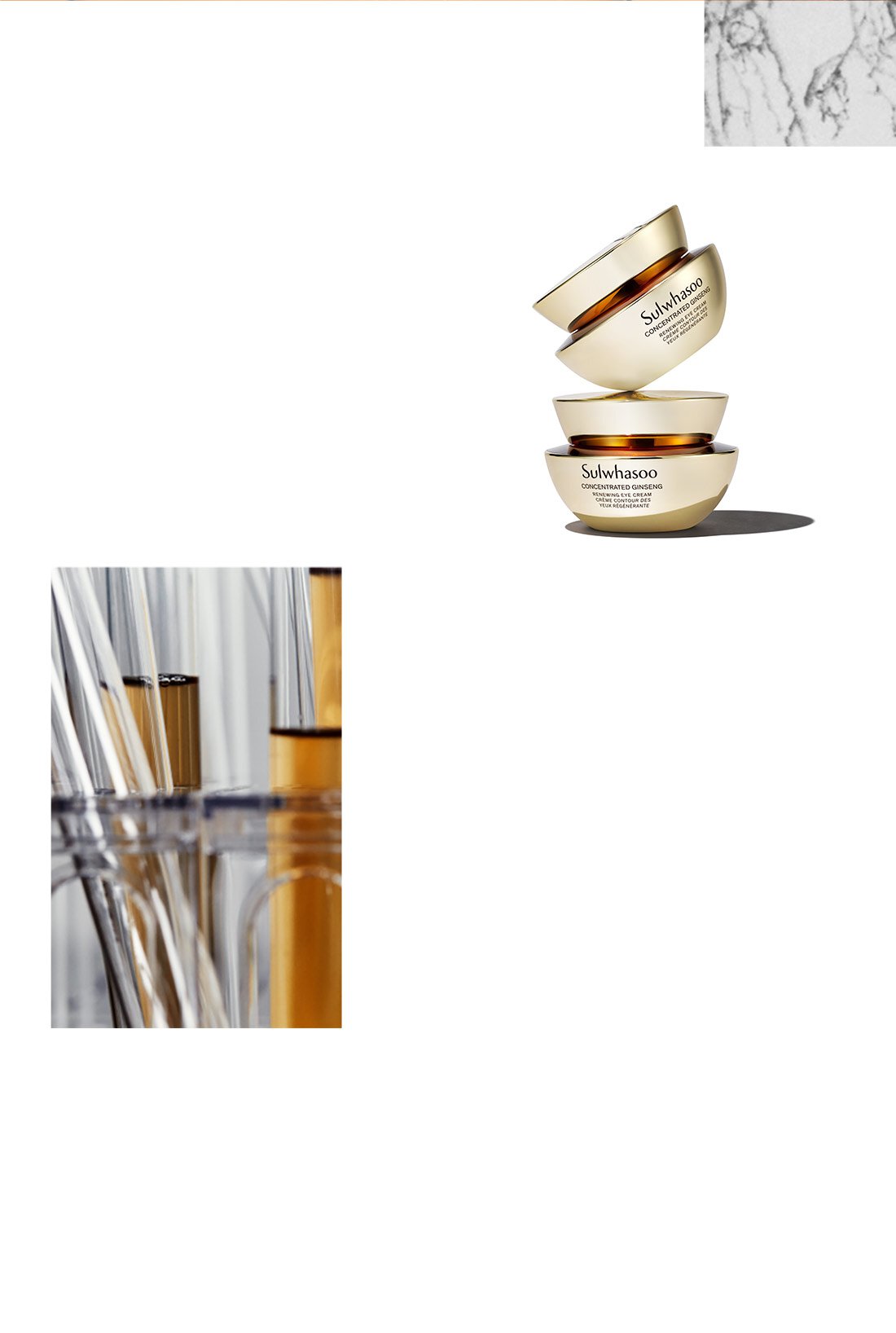 TAKE PROACTIVE STEPS TO
FIGHT FUTURE SKIN CONCERN
AROUND YOUR EYES
Ginseng Retinol™ featuring
a Ginseng Flower extract
and Retinol complex.
GINSENOMICS™
- THE POWERFUL ANTI-AGING
FORMULA TO REJUVENATE
SKIN APPEARANCE
Ginsenomics™, Sulwhasoo's
technology that uses a rare type
of saponin (1g extracted from
1,000g of ginseng) which is 6,000 times* further concentrated.
* Compared to the concentration of
Compound K, a rare ginsenoside
DELIVERING TIGHTLY
ABSORBING TEXTURE
WITH NON-STICKY FRESHNESS
Sophisticated with cutting-edge liquefaction
technology, Concentrated Ginseng Renewing Eye
Cream sports a gel-like, bouncy texture soaks
into the skin instantly, delivering ample moisture
with a refreshing finish.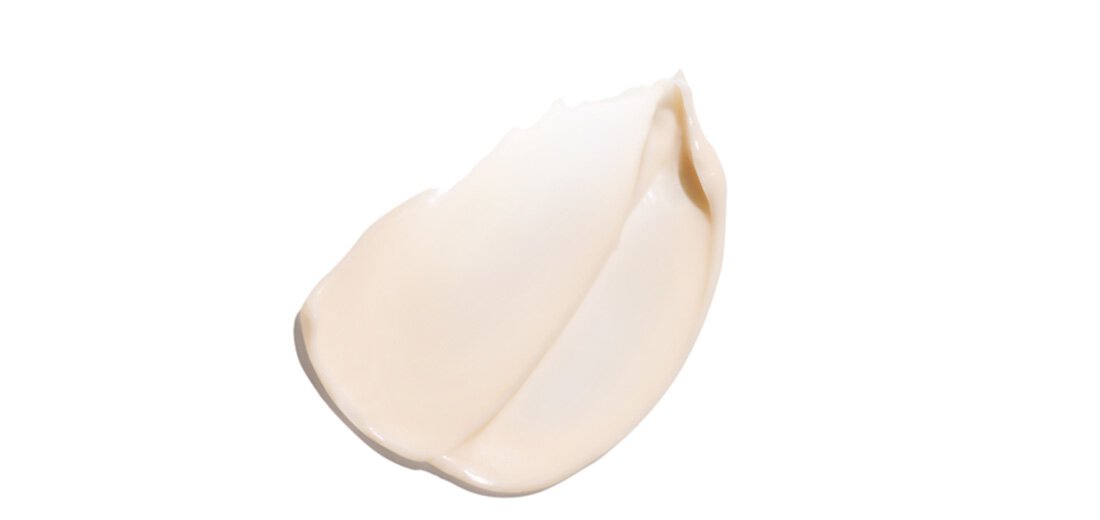 VISIBLY REDUCING
PUFFINESS AND SAGGING
AROUND THE EYES WITH
INSTANT COOLING
ANTI-AGING EFFECTS
The metal-ball applicator cools the skin instantly
on contact, visibly reduces swollen puffy eyes,
making the skin around the eyes looks firmer and tighter
for a more youthful appearance.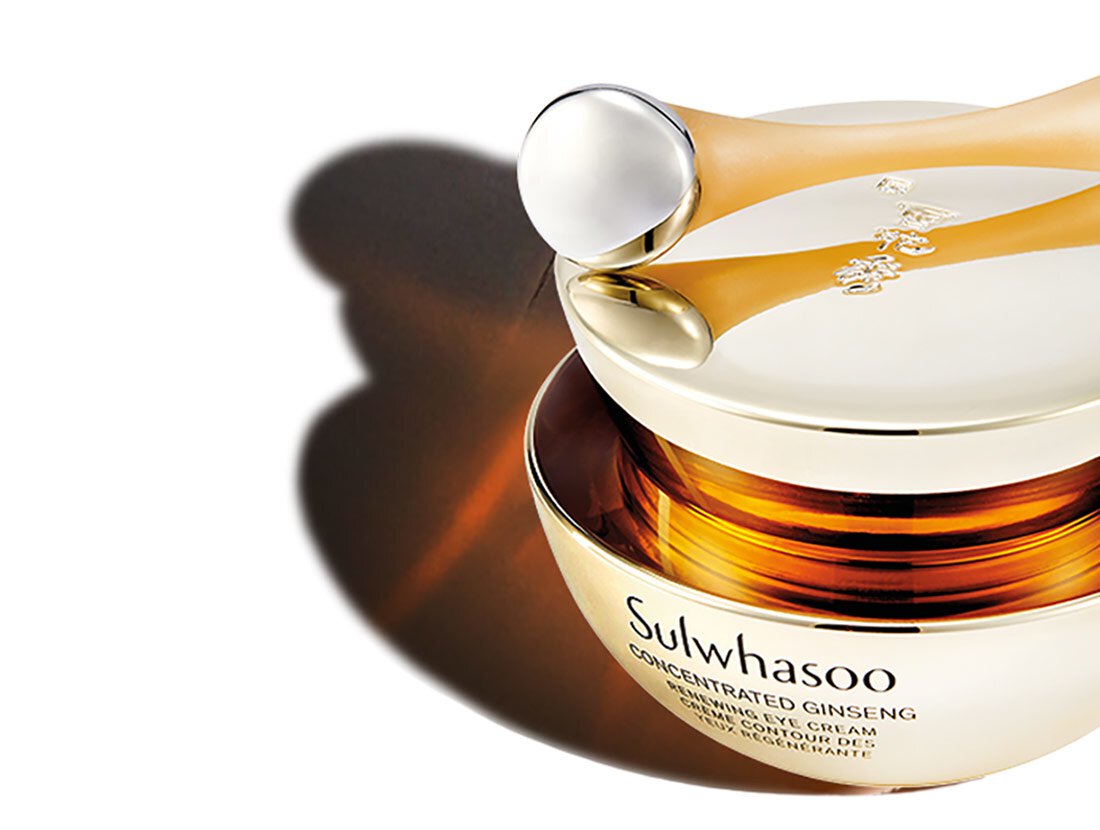 SWOLLEN
EYELIDS

SWOLLEN
UNDER-EYE
BAGS

LIFTING
AROUND
THE EYES

SATISFACTION
WITH COOLING
EFFECT
* From a clinical study of 31 Korean women (ages 30 to 69), conducted from
Aug. 17 to Oct.
13, 2021, by P&K Skin Research Center, Korea
(Limited to temporary improvements after a single use with the massage ball)
** From HUTs of 130 Chinese women (ages 25 to 34),
conducted from Nov. 10 to Dec. 10, 2021, by REMOTION
THE RITUAL OF
CONCENTRATED GINSENG
RENEWING EYE CREAM
OFFERING OPTIMAL ANTI-AGING
EFFECTS AND RESILIENCE
FIRMING

Using your pinkie,
gently pat small dabs of the cream
around the eye.

SWELLING REDUCTION

Gently press the applicator's
cooling tip to the corners of the eye
and across the eyelid.

UNDER-EYE BAGS CARE

Starting from the eye's inner corner, run
the applicator over the under-eye area,
rotating it in small circles and finishing.

LIFTING

Run the applicator from the eye's outer
corner toward the temple, moving it up
and down in gentle zig-zag motion.